Digital Intraoral Scanner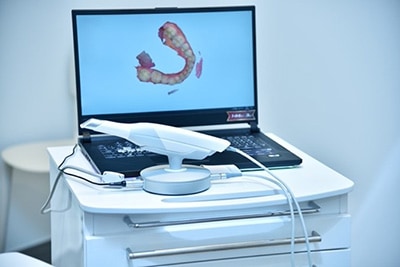 An intraoral scanner is a large pen- or wand-like device that takes digital dental impressions of your teeth. These devices create highly detailed 3D images of the inside of a patient's mouth and allow our dentists to view them on a computer screen instantaneously. The dental impressions made with intraoral scanners can be used to fabricate dental restorations, such as dental crowns and bridges. The scanner offers faster and more detailed results than traditional impressions with a putty-like material called polyvinyl siloxane (PVS).
Dr. Tyler Wurmlinger and Dr. Ross Nash use digital technology at Cosmetic Dentistry of the Carolinas in Huntersville, North Carolina. Intraoral scanners and other advancements improve the patient experience with highly predictable and fast results. Our dentists want our patients to feel comfortable throughout their dental visit, and digital technology helps us make patients feel more at ease with their dental care and treatment plan.
How Does a Digital Intraoral Scanner Work?
Intraoral scanners provide exact 3D images to help with preventive, restorative and cosmetic dental treatments. The handheld device projects a light source from the scanner onto objects in the mouth, and the scanning software forms a 3D model using that data. The scanner creates real-time images on a touch screen with accurate details of the soft and hard tissues.
These digital scanners work with CAD-CAM (computer-aided design and computer-aided manufacturing) technology to provide faster, easier treatment planning and a more streamlined workflow for dentists.
Digital Scanners Improve the Patient Experience
Our dentists work to make each patient feel comfortable in the dentist's chair. A digital scanner enhances the patient experience by fitting comfortably in the mouth and forming fast, precise images with microscopic details. We can use these images to fabricate same-day dental crowns, dental bridges, dentures or clear aligners for teeth straightening. Intraoral scanners improve the dental impression workflow and patient experience by eliminating the need for uncomfortable PVS or "goopy" impressions.
Save Time With Digital Dental Impressions
Intraoral scanners involve a faster approach to dental impressions, saving our dentists and patients precious time. Digital impressions are created and processed quickly, allowing for shorter visits and quicker turnaround times for dental restorations. Intraoral scanners offer predictable and reproducible digital dental impressions and eliminate the time-consuming need for physical impressions sent out to a lab.
Digital Scanners Lead to Better Patient Education
The images captured by intraoral scanners often lead to better patient education because they provide a more direct process. Patients can see the 3D photos with the dentist to visualize and magnify dental diseases. Seeing their oral health issue on the screen helps patients better understand the concern and makes them more likely to commit to a treatment plan to correct the problem.
Research Shows Intraoral Scanners Offer Better Results Overall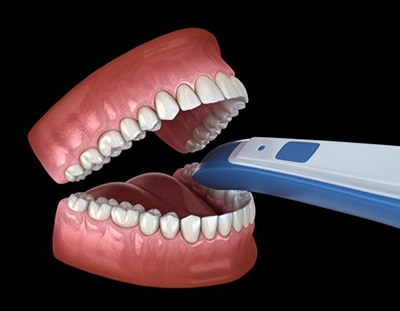 A study published in BMC Oral Health in 2017 evaluated the advantages and disadvantages of digital and conventional impressions and their accuracy. They found that optical impressions with intraoral scanners reduced patient discomfort and were more time efficient. Intraoral scanners simplified the clinical procedure for the dentist and patient and allowed for better communication between the patient and the dental technician.
Intraoral scanners removed the hassle of plaster models. Researchers found the IOS technologies to be sufficiently accurate for capturing impressions for dental restorations, such as dental crowns, partial dentures and inlays and onlays for natural teeth and dental implants.
These technologies are helpful for smile design and can be integrated into implant dentistry for guided surgery. In orthodontics, intraoral scanners work well for custom-made devices and clear aligners.
Schedule a Dental Exam in Huntersville
Enjoy a more comfortable experience with digital technology at your next dental exam with intraoral scanning, digital X-rays and other tools. Schedule an appointment with Dr. Wurmlinger or Dr. Nash at Cosmetic Dentistry of the Carolinas by calling (704) 895-7660 or requesting a virtual consultation online.