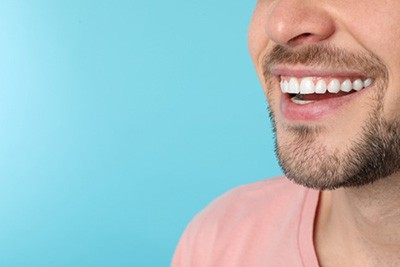 Full mouth restoration, also called full mouth reconstruction, is a customized series of dental procedures to rebuild, restore and replace most (or all) of the teeth. Many people with severe dental decay, multiple missing teeth, functional problems and oral health issues can qualify for full mouth restoration.
Our dentists at Cosmetic Dentistry of the Carolinas in Huntersville can provide a beautiful and functional smile with full mouth restoration. Dr. Tyler Wurmlinger recently joined our team and became a proud owner. He continues to contribute to the excellent reputation of our practice with innovative treatments and comprehensive, world-class dental care. Dr. Ross Nash founded our dental practice in 1980 and has grown our reach in the last few decades with his wife, Dr. Debra Engelhardt, a dental practice management expert.
What Does Full Mouth Restoration Entail?
The details of your full mouth restoration will depend on the severity of tooth, gum and bone loss as well as other oral health concerns. The procedural plan is created based on the number of remaining healthy teeth, the state of the gum tissue, bite alignment and the condition and appearance of the teeth. Our dentists will review your dental records and take digital X-ray scans and impressions of your bite to understand your oral health and specific needs. We use an intraoral scanner to reveal problems underneath the oral tissues that are otherwise difficult to detect.
Full mouth restoration treatment plans may include the following restorative dentistry options:
Tooth extraction
Dental implants
Dental bridges or partial dentures
Root canal therapy
Orthodontic treatment
Periodontal treatment
Dental crowns or porcelain crowns
Bone or tissue grafts
Implant-supported dentures
Inlays and onlays
Tooth-colored composite fillings
Candidates for Full Mouth Restoration
The primary goal of full mouth restoration is to provide a complete set of teeth and healthy structures (including the tooth roots, gum tissue and jawbone) for a functional and aesthetically appealing smile. People missing several teeth or with severely damaged or decayed teeth may qualify for full mouth restoration. This combination of dental procedures is often necessary after a mouth injury caused by a car accident or contact sport. Long-term poor dental hygiene, untreated gum disease and chronic teeth grinding (bruxism) may also lead to severe tooth damage.
Some congenital medical conditions may require full mouth restoration, such as ectodermal dysplasia (tooth malformation that causes several missing teeth) or dentinogenesis imperfecta (translucent, yellowish-brown or blueish-gray teeth that are weak and prone to damage).
How Long Does Full Mouth Restoration Take?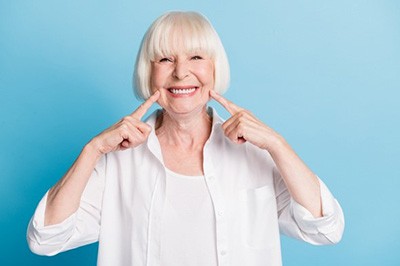 Restoring a healthy mouth depends on the procedures involved in the full mouth restoration treatment plan. Some restorative treatments only require a single visit, such as tooth-colored fillings, while other dental treatments may take two or more visits, such as dental crowns, bridges, inlays and onlays. That's because the dental restoration must be custom fabricated to your specific needs and tooth dimensions.
Some patients may require dental implants, gum grafts or bone grafts for significant repair, and the mouth needs time to heal after these procedures before moving on to the next step. Periodontal treatment for advanced gum disease, or orthodontic treatment, may also be necessary to achieve the desired bite alignment.
One patient's timeline could be six months, while another's plan is a year or longer. Our dentists will develop a strategic plan to restore a healthy mouth and outline the estimated timeline to completion. That starts with a detailed consultation and dental exam.
Schedule a Consultation in Huntersville
If you struggle with severe dental problems, contact Cosmetic Dentistry of the Carolinas in Huntersville, North Carolina. Schedule a dental exam and consultation with Dr. Wurmlinger or Dr. Nash by calling (704) 895-7660 or request a virtual consultation online.