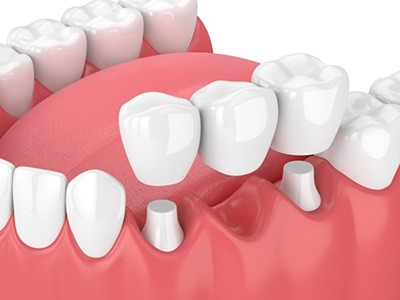 A dental bridge restores your smile's function and cosmetic appeal, giving you back a healthy mouth by replacing missing teeth and "bridging" the gap they left behind. Dental bridges are necessary restorative dentistry procedures that reconstruct your bite using crowns and artificial teeth (pontics). Our dentists offer several types of dental bridges depending on which teeth are missing and how many.
Cosmetic Dentistry of the Carolinas provides comprehensive dental care focusing on esthetics in a warm, compassionate atmosphere. Dr. Tyler Wurmlinger joined our team recently and is now a proud owner, continuing the excellent reputation of Cosmetic Dentistry of the Carolinas through world-class dental care and innovative treatments. Our founding dentist, Dr. Ross Nash, started the dental practice in 1980 and expanded his reach with his wife and dental practice management expert, Dr. Debra Engelhardt.
Candidates for Dental Bridges
A dental bridge is used for people missing one or more teeth in a straight line and fills the gap with pontics. Traditionally, bridges are secured by dental crowns placed on adjacent teeth on either side of the opening, with artificial teeth cemented in between. Bridges prevent remaining teeth from shifting out of place and restore full function, so patients can chew and speak normally with a complete smile.
Candidates for a dental bridge need to have a healthy mouth first. Dr. Wurmlinger or Dr. Nash will recommend addressing tooth decay, gum disease and oral infections beforehand, as these concerns can lead to further tooth loss. The teeth adjacent to the gap must be healthy to hold a crown.
Dental bridges are often a good choice for people with bite problems, chewing difficulties and tooth or jaw pain caused by missing teeth. Many people are self-conscious of tooth loss and wish to restore their smile and confidence.
Types of Dental Bridges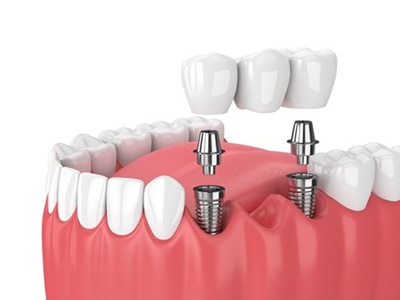 A dental bridge is created using abutment teeth and pontics. The abutment teeth are dental crowns positioned on healthy teeth on each side of the tooth gap, and they support the artificial tooth (or teeth). Dental bridges may be made using metal, ceramic, porcelain fused to metal or composite resin. There are four main types of dental bridges:
Traditional, Fixed: The traditional method involves at least two dental crowns and a pontic that fills the gap, and these pieces are connected.
Cantilever: This dental bridge is used in cases where a patient is missing one or more teeth but only has remaining teeth on one side of the gap, such as a missing back tooth. One abutment tooth is used to hold this bridge in place.
Implant-Supported: This type of dental bridge doesn't involve placing dental crowns on healthy teeth. Instead, a dental implant, or titanium post, is surgically placed in the jaw to strengthen the jawbone and hold the pontic. The dental implant may secure several pontics.
Maryland Dental: The Maryland method is often used for people missing one or more front teeth and utilizes wings on each pontic side to secure the false tooth to the back of the adjacent teeth.
Our dentists will recommend the type of dental bridge that fits your lifestyle and oral health needs. Implant-supported bridges involve a lengthier process but improve your oral health more in the long run. The implants are placed in the jaw and fuse with your jawbone before attaching the artificial teeth. Removable bridges or partial dentures are other options for patients missing one or more teeth.
How Long do Bridges Last?
Dental bridges often last five to 10 years or longer, depending on how well you care for your teeth and how often you see our dentists for exams and cleanings.
Contact Cosmetic Dentistry of the Carolinas
Call our dentists in Huntersville, North Carolina, to learn more about your dental bridge options. Contact Cosmetic Dentistry of the Carolinas at (704) 895-7660 to schedule your dental exam and consultation or request a virtual consultation online.