Dental Implant Restoration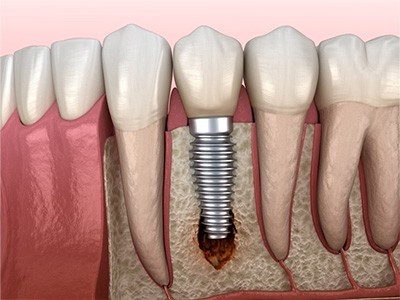 Missing teeth are a significant oral health concern that worsens over time. Someone with just one missing tooth is likely to experience additional tooth loss as the remaining structures shift to fill the gap and the gum tissue and jawbone recede. Missing teeth are not just a health issue; one or more missing teeth can impact your self-confidence and affect your facial shape, speech clarity and ability to eat certain foods. Restoring missing teeth with dental implant restoration provides a functional bite and improves the smile's aesthetics.
At Cosmetic Dentistry of the Carolinas, Dr. Tyler Wurmlinger and Dr. Nash offer dental implant restoration. Our dentists strive to provide world-class dental care with a compassionate atmosphere that helps patients feel at ease during their appointment. With more than four decades of experience and an excellent reputation, our patients know they're in the best hands when they visit our Huntersville location.
What Is the Dental Implant Restoration Process?
Dental implant restoration involves placement of an artificial tooth (pontic) and root to fill in the gap left by the missing structure. A titanium post is implanted into the jawbone to replace the lost tooth root. This rod fuses with the jawbone to strengthen the jaw, prevent further bone loss and provide a stable foundation for the pontic. An abutment, or metal connector, connects the implanted post with the artificial tooth to form a permanent replacement that looks, feels and functions like natural teeth.
The dental implant process depends on how many teeth are missing and the number of implants required to restore a complete upper and lower arch. The procedure is carefully planned and is typically a two-step process:
A single-tooth replacement for one missing tooth often takes around one to two hours and begins with preparing the bone for the implant. The post, rod or screw is placed in the jaw. However, some patients may require a bone graft first if they have insufficient bone material to secure the implant. A bone graft lengthens the process but improves the procedure's success rate. Pre-treatment surgeries, such as bone grafts or tooth extraction, can take three to 12 months.
Osseointegration with the jawbone typically happens three to six months after the titanium rod is surgically placed in the upper or lower jawbone. Then, the second portion of the procedure is planned. The abutment is screwed into the implant and holds the artificial tooth. The pontic is typically a dental crown created to match the shade and shape of the adjacent teeth. The healed gum tissue is opened to attach the abutment to the rod, and a temporary pontic is placed on top. About one to two weeks later, the permanent crown is placed.
Dental implants are also used for implant-supported bridges to replace a row of missing teeth and implant-supported dentures to restore an entire arch of lost teeth. The process is similar for these procedures, but the timeline varies.
Candidates for Dental Implant Restoration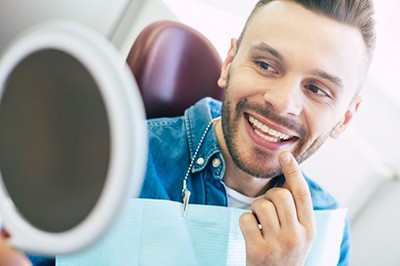 Dr. Wurmlinger or Dr. Nash can determine if dental implant restoration is the correct procedure for your needs and oral health during your dental exam and consultation.
People missing one or more teeth may qualify for dental implant restorations, but they must have healthy gum tissue, sufficient bone density and good oral health.
Tobacco use prevents oral tissues from healing correctly and lowers the success rate of dental implants. If you smoke or chew tobacco, you must quit well beforehand to ensure a successful dental implant restoration. If you are prone to teeth grinding or have tooth decay or gum disease, these issues will need to be addressed before moving forward with the tooth replacement.
How Long Do Dental Implants Last?
With proper care, the implanted artificial tooth root can last a lifetime. Regular dental exams and teeth cleanings can ensure long-lasting tooth restoration. The dental crown that acts as an artificial tooth may experience wear and tear as you age and need replacing every 10 to 15 years.
Learn More About Dental Implant Restoration
If you struggle with one or more missing teeth, contact Cosmetic Dentistry of the Carolinas. Schedule a dental exam and consultation with Dr. Wurmlinger or Dr. Nash in Huntersville, North Carolina, at (704) 895-7660 or request a virtual consultation online.