"Dr. Nash,
I wanted to thank you and your staff again for taking such great care of my broken veneer! The repair is holding strong and I was able to smile big during my event and even had a steak at the celebration dinner afterwards!
You and your team do amazing things! I really appreciate being able to get in on such short notice and fully expected to pay for the delicate repair.
Please extend my gratitude to all of your team and let me know if I can ever help you…!"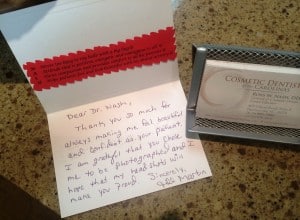 Thank you so much Jill M.
"Ross:

You both have given me something far more than I ever expected for my birthday.  A new bright and confident smile, something I have not had ever in my life.

I never had any doubt about Ross's skills and reputation with cosmetic dentistry and now I am  thoroughly convinced you are a genius/artist backed by an exceptional office team of technicians that when it comes down to it make people happy and full of confidence.  Please extend my thanks to all your team for their very fine work and service.  Over the top and first class.  I'm Not sure I can ever repay you completely for what you have done for me.   
Thanks for taking care of me and repairing my previous "horse teeth" to an unbelievable, bright smile that I cannot still believe is mine but I will forever wear it well.  In fact I am practicing the art of smiling to make sure I can show your work of art off in the absolute best manner.

Warm Regards,
G Parks"

"My wife and daughter requested to "change their smiles". I researched to find the best doctor. Dr. Nash worked his magic and my family loves it! Thanks Dr. Nash!!" ~ JB
"The actual treatment was painfree , I was made comfortable with soothing music, dark glasses and warm blankets. They looked after me like I was family. I was even transported to and from my hotel.
I get compliments constantly about my smile, my teeth look youthful, beautifully shaped and perfectly white. I cannot say how happy I am that I learned about Dr. Nash and would recommend him very highly. " 
Regards, GF
"I had heard a lot about Dr. Nash but I talked to some of the other dentists around first. It kept feeling like all these other dentists really look up to this one and kind of envied his practice. When I got to meet him I realized why the other dentists regarded him so highly. He does incredible work and he and his team make you feel like the nothing in the world is as important as your comfort. I would highly recommend him to one with the most demanding and discerning standards, even mom. If you know anyone looking for excellent dental work and want the best check out Dr. Nash. Tell him JD sent you!" ~ JD
"I can now smile without covering my mouth to hide my teeth.  Everyone loves my new smile, especially me!  I can't tell you what a difference Dr. Nash has made for my self esteem.  Thank you-thank you-thank you!  The entire experience was great from start to finish.  The staff are all wonderful and helpful.  A true concierge experience-the Ritz-Carlton of dentistry." ~ RH
"Best dentist in town…  Dr. Nash is amazing. My wife had her smile done by him. Wow a magician! And he teaches other dentists what to do. With all this, very humble, caring and friendly." ~ RT
"Since visiting Dr. Nash over 10 years ago, I knew from that day forward my smile would never be the same.  The days after having my veneers done I couldn't stop smiling! I have had my veneers for years and I always get compliments on my smile!  Most people would never guess I had veneers because they look so natural which is exactly what I wanted.  I couldn't be happier with my smile and every experience I have had with Dr. Nash and his staff! He is a leader in the dentistry industry and if you want the best there is no one else you should be going to!" ~ LR
"Dr. Nash and his staff superseded my expectations in both the process and results of my new veneers.  They took the time to fit a smile to what I wanted and also what would look best.  The team was also were very calming during the procedures, helping me through any uncomfort.  I think back now and ask myself 'why didn't I do this sooner?' I owe my beautiful smile to Dr. Nash!" ~ KH