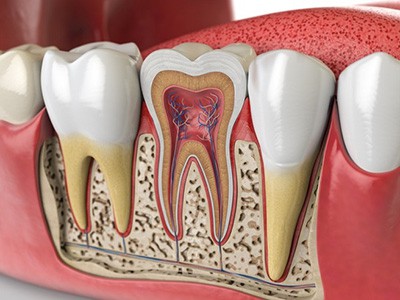 Root canal treatment is a necessary dental procedure to save a tooth. When bacteria enter the inside of the tooth and infect the tooth pulp, it must be removed and sealed to prevent reinfection. Root canals relieve pain from an abscessed (infected) tooth by eliminating the inflamed pulp and cleaning the inside surfaces. This dental procedure may be required if a cavity has gone untreated for a long time or a tooth is cracked after an injury.
Cosmetic Dentistry of the Carolinas has helped patients for more than forty years. Dr. Tyler Wurmlinger and Dr. Ross Nash provide state-of-the-art treatments in a compassionate and welcoming environment where patients feel at ease. Our dentists can improve your oral health with root canal treatment or other restorative dentistry procedures.
When Is Root Canal Therapy Necessary?
Many patients don't realize they have a tooth abscess, while others struggle with the warning signs. You may need a root canal if you experience these dental concerns:
Ongoing tooth pain that radiates from the teeth, jaw and face or pain deep in your tooth
Tooth sensitivity to hot or cold temperatures that lasts more than a few seconds, such as eating ice cream or drinking hot coffee
Swollen, tender or puffy gum tissue due to puss collecting around the infected tooth
A boil or pimple on the gums that may drain pus from the infected tooth and cause a foul smell or taste
A visibly swollen jaw
Tooth discoloration where the tooth appears darker due to infection and poor blood supply
Tooth pain that spikes when the tooth is touched or when you eat (may indicate nerve damage around the tooth pulp)
A loose tooth caused by pus softening the bone supporting the tooth root
A chipped or cracked tooth
How Is Root Canal Performed?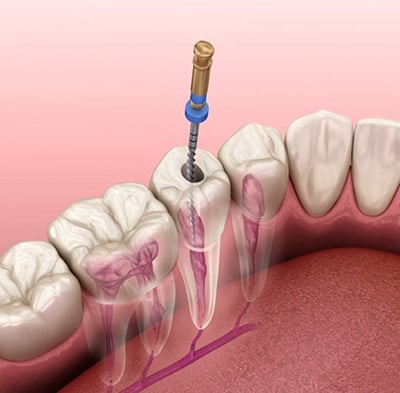 Root canal treatment starts with a dental exam and digital X-rays to examine the damage and develop a treatment plan. If root canal therapy is the best option, our dentists will discuss the procedure with you, so you understand what to expect.
Root canals start with local anesthesia to numb the tooth and surrounding gums. A dental dam (small rubber appliance) is used to isolate the tooth and keep it dry during the procedure. Dr. Wurmlinger or Dr. Nash then creates a small access hole or opening in the tooth's crown to access the infected pulp.
Tiny dental instruments remove the nerves, tissues and blood vessels. The pulp chamber and root canals are thoroughly cleaned, disinfected, shaped and filled with dental material (gutta-purcha). One of our dentists will seal the tooth with a temporary filling to stop bacteria from entering the space again.
The last step of a root canal is the dental crown. This cap is placed over the visible tooth structure to protect the treated tooth and restore a proper bite. Our dentist may recommend a same-day dental crown or a traditional crown to protect the vulnerable tooth and restore a beautiful, healthy smile.
Contact Cosmetic Dentistry of the Carolinas in Huntersville
If you're experiencing signs of an abscessed tooth or have other oral health concerns, schedule a dental exam and consultation with Dr. Wurmlinger or Dr. Nash. Contact Cosmetic Dentistry of the Carolinas at (704) 895-7660 or request a virtual consultation online.