Full and Partial Dentures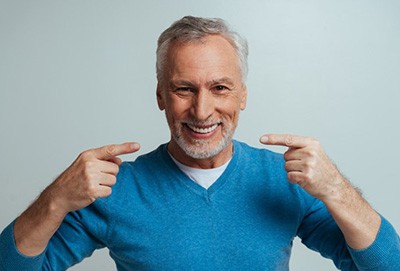 Missing many or most of your teeth makes many aspects of your life challenging. Your ability to eat and speak is severely impacted when you've lost several teeth, and your facial shape changes as your jawbone degrades from the lack of stimulation. Full and partial dentures are removable replacements for missing teeth and the surrounding tissues, and these appliances work to restore a full smile. New advancements allow implant-supported dentures to strengthen and stabilize the jawbone and provide a better fit and function for the replacement teeth.
Dr. Tyler Wurmlinger and Dr. Ross Nash offer full and partial dentures at Cosmetic Dentistry of the Carolinas. Our dentists have decades of experience and an excellent reputation for comprehensive, compassionate dental care with innovative treatments and new technologies. We can restore a complete smile with various denture types.
How Do Full (Complete) Dentures Work?
Full dentures may involve an immediate set or conventional set of replacement teeth. Immediate dentures are created in advance and positioned over the gums after the teeth are extracted. The gum tissue needs time to heal after tooth removal, which typically takes eight to 12 weeks, and then conventional dentures can be placed. The immediate tooth replacements allow your mouth to recover while still providing artificial teeth that help you eat, speak and chew. Immediate dentures are not meant to be used long-term because the jawbone and gum tissues will shrink during the healing process, altering the fit of the oral appliance. They are a temporary solution while the mouth recovers and you wait for your conventional set to be ready.
Implant-supported dentures can hold a conventional denture in place and provide a more natural feel and function. The process involves implanting titanium posts into strategic points in the jaw to secure an entire arch of teeth.
How Do Partial Dentures Work?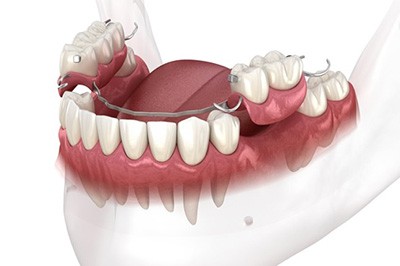 Partial dentures are best when you have one or more natural teeth remaining in the lower or upper jaw that are healthy with strong roots. A partial denture prevents remaining natural teeth from shifting, loosening and trying to fill the spaces created by missing teeth. These oral appliances include artificial teeth attached to a base colored to match your gum tissue and are made with medical-grade plastic. The base connects to a metal framework that secures the partial denture in the mouth.
Fixed partial dentures may use dental crowns placed over the remaining teeth next to the large tooth gap, called a dental bridge, to hold the artificial teeth in place.
How Are Dentures Created?
It may take two months and several dentist appointments to develop your dentures. Dr. Wurmlinger or Dr. Nash will determine which type of oral appliance is right for you based on jaw impressions, measurements and dental exams. Wax models or plastic forms are created in the desired shape and position to ensure a well-fitting denture. Once you reach a comfortable fit and feel with the wax or plastic model, the dentures are fabricated to the chosen shade, shape and fit. However, adjustments are often necessary as the jaw and tissues underneath the dentures change over time.
How Long Do Full and Partial Dentures Last?
Longevity depends on the type of denture. Full dentures typically last a decade with proper care and regular dental visits for adjustments. Partial dentures may last up to 15 years. Immediate dentures are not meant to last and should only be used for a few months while the permanent prosthetic is created.
Learn More About Your Denture Options
If you're interested in dentures, contact Cosmetic Dentistry of the Carolinas in Huntersville, North Carolina. Schedule a dental exam and consultation with Dr. Wurmlinger or Dr. Nash at (704) 895-7660 or request a virtual consultation online.