Implant-Supported Dentures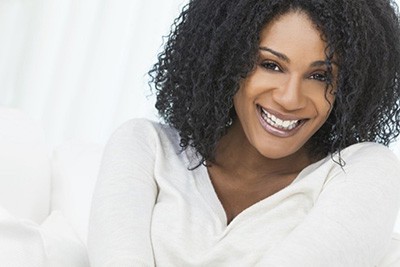 When you're missing most or all your natural teeth, dentures provide the stability you need to eat, chew and speak clearly. Implant-supported dentures are a newer option that improves upon traditional full and partial dentures. These oral appliances are anchored to dental implants in your jawbone and provide a more natural function and feel. Implant-supported dentures can replace an entire arch of missing teeth or several missing teeth on the upper or lower jaw. They are an effective, life-like solution for tooth loss.
Dr. Tyler Wurmlinger and Dr. Ross Nash offer comprehensive restorative dentistry at Cosmetic Dentistry of the Carolinas, including several options for full and partial dentures. Our dentists take pride in providing world-class dental care with innovative treatments in a compassionate and welcoming environment.
What Are Implant-Supported Dentures?
Implant-supported dentures are like traditional dentures, but instead of resting on top of the gum tissue, implant-supported dentures are secured to your jawbone using dental implants. Dental implants are titanium posts or rods surgically placed in the jawbone that work as artificial tooth roots. These posts fuse with the jawbone over time and anchor the dentures.
Patients with implant-supported dentures typically don't experience shifting, slipping or wobbling like traditional denture wearers. Many denture patients upgrade their oral appliances to the implant-supported option for a better quality of life.
Dentures secured with dental implants can be fixed or removable, depending on your preference, jawbone health and medical history. Removable implant-supported dentures snap onto dental implants and are typically removed once a day to clean the oral appliance thoroughly. Fixed implant-supported dentures are permanently secured and attached to the dental implants in the jaw and are only removed by a dentist for maintenance purposes when necessary.
Someone with fixed implant-supported dentures cares for their artificial teeth the same way they would natural teeth but may require special cleaning tools, such as floss threaders and interproximal brushes.
What Is the Process for Implant-Supported Dentures?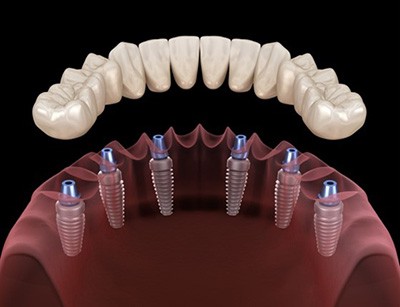 The process for implant-supported dentures involves multiple steps, but the details depend on your oral health and unique needs. If you have decayed or damaged teeth, they must be extracted first. Some patients will require bone grafts to rebuild and fortify the jawbone to hold the dental implants. Both of these caveats require a few months of healing before implant placement, but an immediate denture may be used in the interim, so you have a working set of artificial teeth for your day-to-day life.
Once the dental implants are placed in the jawbone, it takes around three to six months for osseointegration, which happens when the rods fuse with the jawbone. Dental impressions are taken of the upper and/or lower arches to craft your dentures. The overdenture is connected to the posts when completed in a dental lab or with CAD-CAM technology.
Who Is a Candidate for Implant-Supported Dentures?
Dr. Wurmlinger and Dr. Nash may recommend implant-supported dentures if you're missing most or all your teeth. People who have lost several teeth in different areas of the upper or lower arch may benefit from implant-supported partial dentures. However, you must have enough jawbone density to accommodate the dental implants successfully. Dental bone grafts add volume and strength to areas of the jawbone that have experienced resorption due to tooth loss and may be necessary before moving forward with dental implants.
How Long Do Implant-Supported Dentures Last?
Implant-supported dentures can last a lifetime with proper care and maintenance. The snap-on oral appliance (overdenture) holding the artificial teeth may need to be replaced every 15 to 20 years due to regular wear and tear.
Learn More About Your Denture Options
If you're missing many or most of your teeth, contact Cosmetic Dentistry of the Carolinas to discuss your denture options. Schedule a dental exam with Dr. Wurmlinger or Dr. Nash in Huntersville, North Carolina, at (704) 895-7660 or request a virtual consultation online.